Kali linux crack wpa aircrack. Reaver
Kali linux crack wpa aircrack
Rating: 9,6/10

1661

reviews
Wifi Hacking
Copy that, in my case that is wlan0mon. I have captured a handshake of my own router and I am trying to bruteforce the password, I am using Hashcat with a powerful two graphic cards but I am unable to find the password. At that time, we will capture the packets which sends from client. Tried searching but couldn't find an answer. In you case, this could be wlan0mon or anything similar. This will solve the problems for us. Has someone a idea how i can fix this? Sometimes they will add a new looking desktop but at the bones they are all the same.
Next
Hack WPA/WPA2 PSK Capturing the Handshake
Your inputted command should exactly look like this. Note:Do not close this terminal. My question is this: when I run airmon-ng I am gathering to my understanding not only my own packets but packets from other nearby networks. You can also try a combination of alphabets and numbers but it will take more time so to avoid long time i will suggest you to read the mind of the victim and guess what type of password he can use for example many types of people use the date of birth and name as a password and many a phone number or mobile number for this you can try only numeric based test which will save your time and more characters means more time. We will not bother about the speed of various tools in this post.
Next
How To Hack WPA/WPA2 Wi
In my case, my wireless adapter is with the name wlan0. Now, you can use aircrack-ng to crack the password. Keep in mind the dictionary file is only a simple text file that can be edited with any text editing program, such as notepad. After that we should see that if any one is connected to the victim Wi-Fi. Therefore, Cybrary is a free community where people, companies and training come together to give everyone the ability to collaborate in an open source way that is revolutionizing the cyber security educational experience. Step 6 The next step can be a little troublesome.
Next
Kali Linux Howto's: How To Hack WPA/WPA2 Wi
Now note that, handshake happens only when a client tries to connect to a WiFi access point. Interface in my case is wlan0mon. But I pressed ctrl+c and it tried to capture the handshake. In this case, get an external WiFi adapter mentioned in prerequisite article. Lets see what happens this time around.
Next
Step By Step Kali Linux and Wireless Hacking Basics WEP Hacking Part 3
This command will display all of your wireless interfaces that are capable of running in monitor mode. You may watch this video to know how to hack wifi using kali linux using reaver method. Note: This tutorial is only for educational purpose. Now the methodology is same for wifite and airodump-ng method, but wifite does all this crap for you, and in case of airodump-ng, you'll have to call a brethren airreply-ng to your rescue. Unfortunately, a variety of things can go wrong. Ps: Maybe its interesting to know that i also tryed the easier version with wifite. Anonymous I'm visiting your site for the first time, and I found this to be a very good tutorial.
Next
WPA/WPA2 cracking using Dictionary attack with Aircrack
Step 3 — Hack Wi-Fi Using Kali Linux Disconnect from all wireless networks, open a Terminal, and type airmon-ng. One common problem is that the wireless signal was too weak, in which case you would only need to move your computer closer towards the wireless router. If anyone is not connected the Wi-Fi, cracking is not possible as we need a wpa handshake. Try this- ifconfig wlan0 up ifconfig wlan0 down airmon-ng check kill rfkill unblock all Or this- from Sebastian's comment below Again, replace mon0 with wlan0mon for Kali 2. Actually I have used this online service which will provide me to filter all the things. The other day i left airodump on for 6 hours scanning and nothing appeared. Anonymous look at those two sites: 1.
Next
How to Hack WiFi Using Kali Linux, Crack WPA / WPA2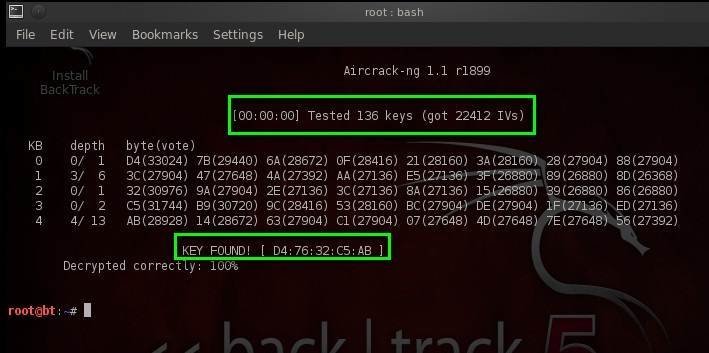 As soon you get your target wifi name listed on your terminal screen, press ctrl+c together to stop the process. There are plenty of huge dictionaries around, but I think you're best off doing a intelligent bruteforce based on what you know about the target length of password, numeric or alphanumeric, etc. If this is the case, you can try other wordlists. Also, before that, some optional wikipedia theory on what a 4-way handshake really is you don't want to become a script kiddie do you? It'll be a perfect ride, all the problems were seen in wifite case. Note the name of the new monitor interface, mon0. The main feedback we need to watch is the Beacons and the Data.
Next
Wifi Hacking
Here is what is what it looks like when it is done. It's a bug with aircrack-ng suite. Aircrack cracked Wi-Fi and key found. If not, Read How To Install Kali Linux. Step Five: Type airodump-ng followed by the name of the new monitor interface, which is probably mon0. Keep up the great work as I go through your other posts! Step Six: Airodump will now list all of the wireless networks in your area and a lot of useful information about them. Please use this information only in legal ways Lewis Encarnacion.
Next
WPA/WPA2 cracking using Dictionary attack with Aircrack
So if you are still following, then just follow these simple steps- Firstly, create a wireless network to crack. Step Four: Type airmon-ng start followed by the interface name of your wireless card. Jumping steps, or missing out steps will generate errors. Now you need to realize that for a handshake to be captured, there needs to be a handshake. This command will show the hardware properties of your pc.
Next
How To Hack WPA/WPA2 Wi
Step 3 — Now again you will get a new monitor interface property name just right below the Interface option. Step Three: Disconnect from all wireless networks, open a Terminal and type airmon-ng This will list all of the wireless cards that support monitor not injection mode. Step 5 — The captured handshake will be stored into that newly created 4 files. This handshake has the hash of the password. It might take a long time, or it might only take a second before the first one shows. Step 6 — As soon as the target wifi name appears on your screen simply press ctrl+C from your keyboard.
Next